One of the co-founders and first president of ECCO has passed away. She died on the 27th of January, at the age of 93. We owe the very existence of ECCO to visionary scientists like Barbara Kirsop. Joined by a small group of colleague curators, she set up an informal scientific and technical discussion forum, "European Culture Collection Curators' Organization" (ECCCO), for which its first meeting was held in 1982 in Göttingen, Germany, hosted by the DSM. Having been the curator of NCYC (Norwich, UK) for many years, Barbara recognized the importance of stimulating exchange of experiences and expertise between service collection curators across Europe in a time when scientific cooperation between the east and west was far from easy. In 1983 Barbara was elected as first ECCCO chairman, and soon after that of the more formal European Culture Collections Organization (ECCO) into which it evolved. She later also served as President of the board for WFCC (World Federation for Culture Collections) for two consecutive terms. At the 1996 WFCC Conference held in Veldhoven (The Netherlands) Barbara and Dieter Klaus were both honoured with Honorary Life Membership of the organisation, and gifted with gingko trees, the gingko leaf being the symbol of WFCC's longevity. Barbara kept her gingko tree alive in her garden, as memorial to Dieter, as a great and international scientist. An honest, kind and sensitive man who worked for all that was right for the development of culture collections. The same attention given to the WFCC gingko tree in her garden was devoted to WFCC partners all over the world, always sharing the news of the family joy.
In January 2021 she contacted the ECCO board to express her concerns about the effects the UK leaving the EU could have on the European culture collection community and in particular the participation of UK collections within ECCO. She was obviously very worried about this, showing how very close the fate of ECCO still was to her heart! The ECCO board of course tried to convince her that from the viewpoint of ECCO we would stay the same family, and we can only hope that this response provided reassurance for her. ECCO owes a great deal to Barbara and we are deeply thankful for the way she has contributed to building the culture collection community, in Europe and beyond.
Barbara was a stout advocate for culture collections at the National, Regional and Global levels. As an active member of the UK Federation for Culture Collections, amongst many endeavours, she taught on the UKFCC training courses as well as organizing many of them. This course ran successfully for many years, so much so that one of the International participants, Maija-Liisa Suihko, (then of VTT and several years later a serving officer of ECCO) asked Barbara and her UKFCC colleagues to take the course to Finland in 1984. Conversations at dinner varied, sometimes intense, microbiology of course but they also focussed on life and getting the best out of it.
Barbara's first visit to Brazil in 1986 as president of WFCC, was followed by the implementation of a training program to support the establishment of the Brazilian network of microbial collections. With her continuous support to raise funds from the British Council and the Brazilian Ministry of Science and Technology, about 50 training courses and international events focused on the management and computerization of culture collections were held.
Barbara fought, supported by colleagues of the World Federation for Culture Collections, to ensure microorganisms were considered appropriately in the Convention on Biological Diversity. She commented "A number of uncertainties exist at the microbial level and there is a lack of awareness of the role played by microorganisms in ecosystem function." Going on to say "specialist microbiological input into the debate is required to ensure that provisions made for national programmes are appropriate and practicable at the microbiological level" (Kirsop, 1996).
The article" Who is….Santiago Moure" published by Barbara in the Biologist (2007) is a masterpiece that shows her capacity to tell stories and her fascination for the natural world, linking biodiversity data, microbial taxonomy, international collaboration and open access to scientific information.
Barbara´s enthusiasm for biodiversity data sharing, open access and open science was a major source of inspiration for the establishment of speciesLink (https://specieslink.net/) an open access network for the delivery of biodiversity data on samples held in biological collections. Today speciesLink integrates in a dynamic way more than 500 data sets with records of over 15 million samples and nearly 5 million images of microorganisms, plants, and animals collected in Brazil and other South American countries.
Barbara worked with many researchers across the culture collection world and helped share the information that would ensure all microbiologists could maintain their cultures in good condition and that they were aware of the work of culture collections and the services they delivered. Individual microbiologists and Curators, Culture Collection Organisations (UKFCC, ECCO, WFCC) and participants of many training courses and conferences have benefited from her good humour and wisdom. While in the 1980´s she had a key role in the establishment of microbial collections and collaborative networks in different regions of the world, after her "formal retirement" from the culture collections world in the 1990´s she became a champion of open access to and free flow of scientific information in developing countries. She was one of the founders of the Electronic Publishing Trust for Development and Bioline International (http://www.bioline.org.br/) a not-for-profit scholarly publishing cooperative. While CRIA (Reference Center on Environmental Information , Brazil) is responsible for the development and maintenance of Bioline´s system, the University of Toronto is responsible for the content management. In 2021, the average number of downloads of complete articles was 1.3 million per month.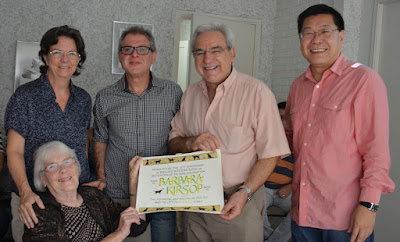 The vídeo of celebration of 20 years of  Bioline with Barbara Kirsop is available at :https://www.youtube.com/watch?v=8OhdZFZ9x0w
Our thoughts and condolences go out to the staff of NCYC and all who were privileged to work with her.
We are thankful for the contributions to this tribute provided by David Smith and Vanderlei Canhos.
Some selected Publications
Brown, M. L. & Kirsop, B. (1972) Production of yeast mass during fermentation of wort by brewery yeasts. Journal of the Institute of Brewing 78, 39-42. https://doi.org/10.1002/j.2050-0416.1972.tb03427.x
Hawksworth, D.L. & Kirsop, B.E. (eds) (1988). Living Resources for Biotechnology: Filamentous Fungi. 209pp. Cambridge: Cambridge University Press.
Kirsop, B. Yeast identification. Nature 283, 799–800 (1980). https://doi.org/10.1038/283799b0
Kirsop, B.E. (1983). Culture collections: microbiological resource centres. Biologist 30, 139-143.
Kirsop, B.E. The Convention on Biological Diversity: Some implications for microbiology and microbial culture collections. Journal of Industrial Microbiology & Biotechnology 17, 505–511 (1996). https://doi.org/10.1007/BF01574782
Kirsop, B. (2013) The stability of biochemical, morphological and brewing properties of yeast cultures maintained by sub-culturing and freeze‐drying. Journal of the Institute of Brewing, 80, 6, 565-570. https://doi.org/10.1002/j.2050-0416.1974.tb03650.x
Kirsop, B.E. & DaSilva, E.J. (1988). Organization of resource centres. In: Living Resources for Biotechnology: FilamentousFungi (edited by D.L Hawksworth and B.E. Kirsop) pp 173-187. Cambridge, UK: Cambridge University Press.
Kirsop, B.E. & Hawksworth, D.L. (eds) (1994) The biodiversity of microorganisms and the role of microbial resource centres. Braunschweig, Germany: World Federation for Culture Collections.
Kirsop, B.E. & Krutzman, C.P. (eds.) (1988). Living Resources for Biotechnology: Yeasts, 234 pp., Cambridge, UK: Cambridge University Press.
Kirsop, B.E. & Doyle, A. (eds) (1991). Maintenance of Microorganisms and Cultured Cells: A Manual of Laboratory Methods, London: Academic Press.
Kirsop, B.E. & Snell, J.J.S. (eds) (1984). Maintenance of Microorganisms, London: Academic Press.
Sly, L.I. & Kirsop, B. (1990). 100 years of culture collections. Proceedings of the Kral Symposium to celebrate the centenary of the first recorded service culture collection. Osaka, Japan: Institute of Fermentation, Osaka.
Kirsop, B. & Sneath, P H. A. (2008) The Current Status of Culture Collections and Their Contribution to Biotechnology. Critical Reviews in Biotechnology 2, 287-314. https://doi.org/10.3109/07388558409084662
Kirsop, B (2007) Open Acess and Developing Countries. Current Science 93, 276-277. https://www.currentscience.ac.in/Volumes/92/03/0276.pdf Kirsop, B.(2007) Who is ….Santiago Moure? Biologist 54, 224-227