.
---
.
NCTC Introduction video
Music performed by Ensemble Renard
This year's ECCO annual meeting is a virtual event, but we don't want you to miss out on the entertainment side of face to face meetings. We are pleased to present music performed by Ensemble Renard which will be able to view throughout the event.
Ensemble Renard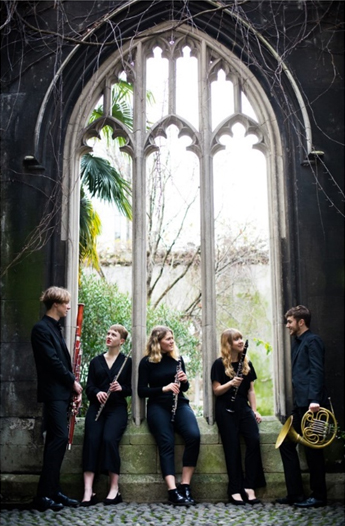 Founded in 2018 by players from the Royal Academy of Music and the Guildhall School, Ensemble Renard are an exciting young chamber ensemble looking to push the boundaries of wind chamber music. Since first meeting as a group, they have been passionate about championing repertoire that is rarely given the light of day. They have been selected to undertake a Chamber Music Fellowship at the Royal Academy of Music for 2020/21 where they will continue to explore more diverse repertoire, commission new works, and to expand the boundaries of their ensemble beyond the wind quintet format to include repertoire with strings, piano, and voices. They were the winners of the Nicholas Blake Woodwind Ensemble Prize at the Academy after just 6 months together where they gave a performance of Thea Musgrave's seldom heard Wind Quintet. This led to an invite to perform in Hans Abrahamsen's inaugural residency at RAM in which they played his Wind Quintet No. 2, "Walden", as well as John Woolrich's Book of Studies Set. 2. During this project they received coaching from both composers and were later invited to give a recital at Folkstone New Music of quintets by Abrahamsen, Woolrich, and Phil Cashian as part of a Q&A with Hans Abrahamsen. In January 2020, they performed a programme including the Abrahamsen and Musgrave alongside music by Oliver Knussen and Ruth Crawford-Seeger as part of the Academy Lunchtime Recital Series. Ensemble Renard have recently established relationships with St Matthias Church, Stoke Newington, and the OSO Arts Centre in Barnes where they are planning to put on concerts for local communities in which they can continue to showcase lesser- known works to a more diverse audience. Ensemble Renard were offered a reserve spot on the Britten Pears Chamber Music in Residence scheme 2020/21 and took part win the Tunnell Trust's Music Coll 2021 on the Isle of Coll in June where they were coached by the Horn players Tim Brown and Caroline Tunnell. The ensemble has performed throughout London and the home counties, taking programmes of quintet classics interspersed with more challenging repertoire to music clubs and lunchtime recital regulars at the Godalming Conservatoire Concerts Series and St-Giles-in-the-Fields among others. Ensemble Renard have been coached by members of the BBC Symphony Orchestra, Philharmonia Orchestra, London Sinfonietta, and the London Mozart Players. During the ECCO coffee breaks, we would like to show you a range of repertoire from across Europe, including Carl Nielsen's Wind Quintet, György Ligeti's Six Bagatelles, and Jean-Michel Damase's Dix-sept variations.
Players
Ellie Blamires – Flute
Flautist Ellie Blamires is a recent graduate of the Royal Academy of Music, where she achieved a distinction in her master's degree under the tutelage of Michael Cox, Karen Jones, Samuel Coles and Patricia Morris. Prior to this she studied musicology as an Academic and Instrumental Scholar at New College, Oxford. She was the Harold Alcock Wrigley scholar at the Academy, and her studies were also generously supported by the Countess of Munster Musical Trust and Help Musicians UK. Ellie also teaches for The Music in Secondary Schools Trust who provide instruments and free music education for disadvantaged children in state schools across London.
Francesca Cox – Oboe
Francesca recently gained a distinction on the Orchestral Artistry Course at Guildhall, under Gordon Hunt and Tim Rundle. Previously, she studied with a scholarship at the Royal Academy of Music. She has also been given a full scholarship to participate in the Taipei Music Academy and Festival in August 2021. Francesca is on the extras list for Sinfonia Cymru and was a recipient of the Jellinek Prize, resulting in a performance in the Una Clark Young Artists' Concert, January 2019. Orchestral highlights have included touring with the London Moonlight Orchestra to Amsterdam and playing with the London Mahler Orchestra. At RAM, Francesca has received high commendations in the Barry Grimaldi Cor Anglais Prize and the Leila Bull Oboe Prize
Holly Isherwood – Clarinet
Holly is studying for her master's at the Royal Academy of Music, where she recently won the Buffet Crampon Clarinet Prize. She was an LPO Foyle Future First for the 2019/20 season, is on the CBSO extra list and has an active interest in both contemporary music and bringing music to a wider community through teaching and creative workshops. Alongside a Chamber Music Fellowship with Ensemble Renard, Holly will also be undertaking an Open Academy Fellowship at the Royal Academy of Music, building on her desire to bring classical music to people who have traditionally not had access to it.
George Strivens – French Horn
George is a scholarship student at the Royal Academy of Music where he has performed with Ed Gardner, John Wilson and Jac van Steen. Recently, George successfully auditioned for the London Sinfonietta Academy, Britten-Shostakovich Festival Orchestra and Encuentro de Música y Academia de Santander. George had plans to perform Strauss's Horn Concerto no.2 with KEMS Orchestra but it was cancelled by COVID-19.
Patrick Bolton – Bassoon
Patrick recently graduated with distinction from a master's at the Royal Academy of Music and was awarded the prestigious DipRAM as well as a Regency Award. Professionally he has worked with the Aurora, London Philharmonic, and BBC Philharmonic orchestras, as well as for the English National Opera. Patrick was the LPO Foyle Future First for the 2019/20 season and won runner-up in The Arts Club – Sir Karl Jenkins Music Award 2020. He is also a semi-finalist in the Royal Over-Seas League Annual Music Competition 2021. Through his role as a Future First, he helped to run outreach projects with the LPO's extremely broad community music programme in London and at the Centre for Young Musicians in Saffron Walden.
Contact us
Phone: +44 7757 697547
Email: ensemble.renard@gmail.com